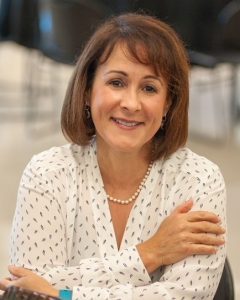 Mireya C. Eavey, Chief Workforce Officer
Mireya leads CareerEdge Funders Collaborative's mission to provide an exceptional labor force to our region's growing industries by leveraging community assets and forming high-performing workforce partnerships.  She does this by cultivating and advancing strategic development, fundraising, program investments and policy development while supplying organizational reporting to the National Fund for Workforce Solutions.  Mireya reports to CareerEdge's Investor Committee. Her passion and expertise have directly impacted thousands of people and positively influenced both public and private sectors to strengthen our community's future.
Skilled in managing the nuances of public-private investment and programming as well as maneuvering the dynamics of integrated partnerships among large systems and agencies, Mireya's track record shows exponential positive development in increasing revenues and engaging the workforce and its employers to create better future opportunities for those currently employed and those moving into various workforce sectors.
Mireya is highly regarded as a prominent leader in workforce development and sustainability. She has put the Sarasota-Manatee region on a national map being recognized for achieving success by spearheading several system change initiatives including the creation of a Community-Wide Plan, endorsed by the Sarasota County Commission, on how to align resources sharing a single objective to train and place citizens of our community into jobs diminishing skill gaps employers have faced within the manufacturing sector. This plan will serve as a model for additional focused sectors.
Mireya has also been sought out to assist other National Fund for Workforce Solutions sites in getting started and securing investments. She has been invited by organizations in both our region and the neighboring Tampa Bay region to sit on various panel discussions to provide insight on present and projected workforce related issues.
Previously, Mireya was Workforce and Project Manager for the Economic Development Corporation (EDC) of Sarasota County. During her tenure at the EDC, Mireya increased involvement in the area of workforce development by 100% and improved collaborations that resulted in strengthening the workforce, relationships with 80 employers and various community organizations, officials, municipalities and numerous advisory boards. She was instrumental in managing International grants from the State of Florida and created a leading edge international business development program bringing to local employers export opportunities.
Utilizing her strategic development expertise, she served as the Board Records Manager for the Clerk of Circuit Court in Sarasota and reduced the budget by 27%.  Prior to, Mireya spent 20 years building and growing a family-owned business that prospered statewide developing market strategies that increased sales 69% over a five-year period.
Mireya graduated from Argosy University where she obtained her MBA with a concentration in Sustainable Systems Management. She attended the University of South Florida where she received her Bachelor of Arts degree in Business Administration and an International Business Certificate.  Additionally, she has a Certificate in Human Resource Management from the University of South Florida in St. Petersburg and completed the Gulf Coast Community Foundation Leadership Institute Program in 2012.
Currently, Mireya serves on the Doctors Hospital Board of Trustees, Florida Policy Institute, Manatee Community Federal Credit Union, CareerSTAT Committee, the National Fund for Workforce Solutions Transition Advisory Committee, and the Sarasota Manatee Healthcare Committee.  She also leads many community advisory groups throughout her daily activities.