"Just a short note to say, "keep up the great work"
"As you know we have a couple of the young men from your STC course working here at MKM."
"You are filling these individuals with knowledge, enthusiasm and more importantly a great work ethic – we have Norman who is fantastic and getting better every day, Assante who is being trained by Norman and John and soon to be Quintin (once approved) who will also be trained by Norman and John."
"These individuals are a credit to you, Sarasota County Schools and The Sarasota Chamber of Commerce/CareerEdge – this is a really good program and we believe that bringing individuals in from your course is the best way forward."
"In among all of this not so positive news I wanted to let you know that the effort you and CareerEdge are putting into these individuals is really adding value to local businesses."
On behalf of my team and I at MKM we want to say a great big – "thank you" 
"CareerEdge's Auto Lube Technician Fast Track program has been extremely valuable to our organization over the past few years. This program enabled us to hire individuals with zero automotive experience and to quickly put them in a bay turning out quality oil changes, inspections, tires, and more. Most of these employees are still working for us and some have worked their way up to flat rate in our main shops. Anyone struggling to fill their shops with technicians or looking for a way to build a pipeline for the future should definitely consider this a great alternative with outstanding potential."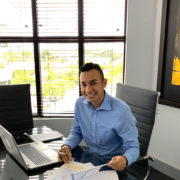 "Bringing in interns who don't see our company from the inside every day opens up an opportunity for fresh perspectives on our business, strategies, and plans. They also provide us with an extra set of hands that help finish projects and accomplish goals. Successfully completing an internship with SVN Commercial Advisory Group also accelerates our ability to recruit commercial real estate professionals that have a higher likelihood of launching a successful career. We also like being able to "preview" future candidates and having a more concrete gauge if they have the skills necessary to succeed. CareerEdge Funders Collaborative and The Greater Sarasota Chamber of Commerce has been an extremely valuable partner in growing our business and attracting new talent."
"CareerEdge was able to get additional resources to make it work for us, along with some other trainings around employability and digital literacy. I was very impressed. They have some good partners behind them including Gulf Coast, Knight Foundation, and Microsoft"
"Over the past 10 years other organizations have tried to work on the workforce development issue, but hadn't succeeded. CareerEdge really reached out to actual employers much more. In the past, employers were standing on the outside looking in, and being told what the workforce community was going to do. They didn't come to employers to ask, to help design, to discuss, to narrow down what we needed. So what happened was there were trainings that weren't applicable and there was other possibly good trainings that manufacturers were unaware of.
CareerEdge said let's get the employers around a table; what do they need; what's their opinion; let employers be developers of the training, so we're not doing all this is vain. They first came to employers, then did a plan (vs creating a plan and taking to employers). We felt we were an integral part of how, what, when, where. "
"Many entities facilitated this – the EDC, SAMA, CareerEdge, the schools themselves, Career-Source, even government. CareerEdge provided financial assistance. They also got the colleges on board. They bring together the people who can make it happen. The fact that they are all working together is the most impressive thing. I haven't seen any friction. Everyone seems to be pulling in the same direction. It doesn't seem to get too political. It seems like they all want a better community. A lot of people were trying to make it a good move for us. They put in time and effort to make it work: land, training grants, and so on. We were made very welcome."
"I frequently have people come up to me and say 'I never would have been able to do it [get my certificate or degree] without assistance.' We provide tuition assistance, and CareerEdge provides money for books and fees. These sorts of expenses can snuff this out. CareerEdge's assistance helps keep them in the program."
"CareerEdge is able to think differently. They are able to see things differently because they are nimble and agile, and not encumbered by bureaucracy. They don't fall into looking at opportunities that others see, but to look for those that others don't see."
"A workforce collaborative needs to become the human capital motivator for an entire community, for a prosperous community. How will we develop this prosperity agenda? We'll think about the needs of employers. We'll think about the talent supply chain. We'll think about the people getting these jobs and see that they are making enough – a living wage – to let everyone share in the prosperity."
"CareerEdge's innovative approach to workforce development will fuel the mending economy and lead to greater economic growth and expansion."
"That different organizations would understand that each has a different purpose and resources, and that they will come together to work as a collective, not as competitors."
"I just want to say thank you for helping fund Bridges To Careers. The career training has made me become more confident within myself and I feel more positive about obtaining employment and succeeding. I appreciate the support and encouragement. The program is great!!! Thanks again."
"I really don't know where to start about what you guys have done for me, so thank you first of all to everyone who has helped me. If it wasn't for this program I'd be still on a corner somewhere selling dope, and that's the truth. This program has given me a new outlook on my life and made me realize that I want far more than what I was settling for. I'm now in school and on my way to becoming an electrician and a man that my kids can be proud of. So thank you all again for everything everyone has done for me."
"CareerEdge is a transformational organization.  I am extremely proud to have played a small part in launching this important initiative.  I recall sitting through one of the first Bridges to Careers graduations.  The tears from the family and participants flowed throughout the entire ceremony.  The since of accomplishment that was felt by all of the participants as well as the CareerEdge team filled my heart with pride and joy.  It was very evident that we were successful in instilling hope and real opportunities for individuals in this community that simply needed a chance.  Job well done!!"
"Nick was homeless when he enrolled in Bridges to Careers. He had a past that he was not proud of but came to Bridges to Careers ready for change and opportunity. Nick paid attention, participated, asked questions and kept his fellow students smiling with jokes and a positive attitude. At graduation, he first thanked his Mom and then went on to say: "Thank you for giving us a chance and seeing something in me that I didn't see in myself. It really means a lot that you believe in us."
For less than $1,353.36 ($1,200 class cost per student + $153.36 in extras like bus passes and MTI enrollment), a former felon graduated with an Electricity Program Certification from Manatee Technical Institute and is now working in his field with a firm that provides full-time employment, benefits and opportunities for advancement. The financial assistance available to him paid for his bus passes, testing fees and a calculator. He did the rest."
"I came to this program during a time in my life when I didn't know where I was headed. All I knew is that I had six kids and needed to take care of them better. I once thought selling dope and running the streets were the answer to all my money needs but jail changed that. I can't do anything for anyone in there so a change in me was a must. Then came this class my Mama asked me to sign up for, she said it was time to do something with yourself, so I called… While in this class I decided to just believe that just by me doing this I could do anything, not only did they teach me job seeking skills, they gave me confidence to really open up and step up for myself and showed me that there are people that are out there to help you. You just got to want something in life for others to invest in you. After finishing the class I started school for Electricity at MTI and finished that too. I have held down two jobs and finally just got a job doing what I went to school for in Sarasota, paying a nice wage with benefits. Things right now in my life can only get better – all because I crossed a Bridge!"
"CareerEdge has been instrumental in bridging the gap between the public and private sectors for local workforce needs. This means more of our residents getting trained and employed by local companies as opposed to companies recruiting from other areas. It has played a key role in planning and quick implementation of industry-based sector plans and trained workforce growth. Our economy has improved because CareerEdge has been there to meet the needs of our local businesses."
"CareerEdge has partnered with Blake Medical Center to support our business goals by expanding the training and development we offer our staff. These additional resources have resulted in improved care for our community. The flexibility of the CareerEdge funds have allowed us to offer career-laddering opportunities for our staff. For example, we have been able to offer certification preparation for our Central Supply Techs, who are able to promote within our organization from non-certified to certified positions. We have also been able to provide our Certified Nursing Assistants an improved skill set via our Sitter Program, which enables the trained individuals to pick up extra hours of work as a result of the cross training opportunity.
This partnership has allowed Blake Medical Center to exceed "Provisional Trauma Status" training requirements and prepare for new business line implementations such as our new TAVR Program and newly accredited Breast Center.
To date, we have been able to assist over 740 employees, with over 3,000 class "seats" offered. These upgraded skill-sets have resulted in promotions and salary increases, improved confidence in practice and ultimately, a higher level of care for our community.
Thank you,"
"Dear Mireya: Thank you for making time to participate in the EDC's October Board Meeting.  Your contribution to the workforce panel discussion was invaluable, and provided the EDC Board members with a ground floor view of the current workforce initiatives underway in our community to assist manufacturers. The collaboration exemplified by the panel participants was especially encouraging. We see your collaboration as a model for tackling future workforce issues, and are confident that positive outcomes will result from your efforts. Workforce is a critical economic development concern and opportunity. On behalf of the Board, I would like to express our appreciation for your continuing efforts in making our community a leader in assisting in the development of qualified talent for our key industries. We look forward to following your progress and continuing to support the positive momentum you have created.
Regards,"
"I want to thank CareerEdge for this (Bridges to Careers) program. I appreciate all your input, advice, presentations, and presenters that went into the training of this class. I was so glad I was part of it.  I will take everything I have learned I my future endeavors.  I know something good will come my way."
"Sky is the limit when you have people like yourselves (CareerEdge), helping and giving of your time and resources."
"Awesome!  Many, many thanks to all.  This is a great collaboration of workforce leadership coming together for solutions!!" (Working on Project Protocol)
"Being a Mentor — Igniting a Spark! The experience of being a mentor with Bridges to Careers has been a win-win situation. Seeing a mentee smile; make eye contact; share thoughts, experiences and successes perhaps for the first time; respond in a thoughtful manner, practice the skills learned in the program; is so gratifying to me. There is great satisfaction in imparting wisdom and experience to others without a huge time commitment.  Sharing my knowledge, skills and support to help others succeed is a way for me to pass on what others have given to me. In developing a relationship with a mentee, being willing to share from my experience, to listen and to provide advice opens, for me, a world of exposure to diverse thoughts, styles, personalities and cultures. I am both the mentor and the mentee, and a spark has been ignited in both directions!"
"These funds have helped quite significantly with all of my many ongoing nursing school bills. With this money I was able to purchase all of my uniforms and patches for nursing school. Until I received this money, I wasn't sure how or if I was going to be able to buy the clothes and shoes I needed for my clinicals. I am looking forward to a long career as a RN at Manatee Memorial Hospital. I greatly appreciate your assistance. Thank you again for your highly valuable support of my education."
"The volunteer experience with CareerEdge has been a great opportunity.  The participants in the program appreciate what we contribute to their classes and one on one mentoring.  It's rewarding to contribute to someone improving his or her work place and daily living skills.  The program is an outstanding opportunity for both participants and volunteer."
"To the staff members and the new students of CareerEdge,
Hi, my name is Chris Crawford, I'm writing this testimony to enlighten the students that this class is not a joke. This class is very helpful. I know some of you are in it just for a job, and that's cool because that's the whole point. At least that's what I thought, but when I got into this class it was a different story, I mean don't get me wrong it teaches you the things you need to about how to get a job but it also teaches you about RESPECT, about your ATTITUDE, and how to treat people and how to listen not just on the job but in everyday life. Before I go into this class my life wasn't headed nowhere. Hell, me myself, I was like if I get a job cool, if not that's fine also, but when I started the CareerEdge course they made me look at myself and all of that negativity I had went away. Now everything I do it's positive and I need this class, because it really makes you look at yourself at least that is what it did for me. Dr. MLK Jr. once said, "If I can help someone when I travel along, If I can show someone that they are traveling wrong, If I can cheer someone with word or song, Then my living won't be in vain." I never understood that until I completed this course and I just want to say thank you to Jessica, Jennifer, and to my man, Michael, and to all the CareerEdge staff members, volunteers, and mentors. Thank you all so much for helping me."
"I have been an employee at Blake Medical Center since January 2002. I was hired as a Patient Transporter on a Medical/Surgical unit. With the help of CareerEdge education, I was able to get promoted to the Critical Care Unit as a Unit Coordinator / Monitor Tech.  As a single mom of 3 active boys, this program has helped me evolve in my career and personal goals. Becoming a Monitor Tech, catching arrhythmias that could lead to death is my first priority. I feel very much of an important part of a strong team of saving lives. CareerEdge education has helped me save a life through the recognition of VT. The quick response to rhythm change and the ability to alert the nurse saved the patient's life. At home, the confidence that I have gained thru Career Edge Education has led me to be even more confident to raise my children as a single parent."
"The premise is simple. First, find a group of people who want to be employed. Offer them a program which will give them new tools and information that will prepare them to rejoin the workforce. Finally, pair them up with outstanding leaders/facilitators who train, support, set boundaries, model and hold the group accountable for attendance, class participation and positive interactions. The result is Bridges to Career. My chance to play a very small role in this process was one of the most exciting volunteer opportunities I've had since leaving my fulltime job. I so enjoy watching people grow and try new skills. I liked hearing advice and real stories from mentors. Class leaders came to class prepared and seem genuinely excited about their work. I spent time with my family over the holiday and they asked about my role in this program. I explained it all and when I finally stopped talking, they all smiled. My son said he thought I'd found the perfect place. I agree."
"I wanted to let you know how everything was going as far as the classes and my progress in the Surgical Technology Program at SCTI. I absolutely love the lessons and how much I have learned from my instructor at SCTI, and now that we have a good foundation we are starting our clinical hours. I wanted to thank you especially for the assistance that you were able to help me with. I was able to put more time towards my studies and towards instruction time in class. I will never be able to express to the fullest how much of a stress relief that help was to me. I am very thankful that CareerEdge has opened this opportunity to any healthcare career program. Again Susan, I am so grateful that you took the time to be able to help me, and now I am 5 and a half months away from graduating with a career, and it's all because of the help and advice you gave me, and the financial assistance from CareerEdge.
Thank you for your time,"