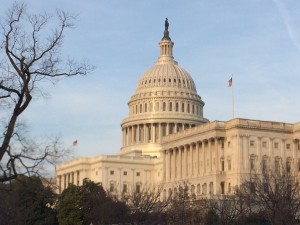 Sarasota, FL (February 14, 2017): CareerEdge Funders Collaborative, a workforce development non-profit and United Way Suncoast partner, is working to get more people access to higher education funding. Program Director Deborah Chapman recently traveled to D.C. to meet with Florida's congressional legislators as part of the National Skills Coalition. The Coalition is made up of U.S. workforce development organizations and is focused on supporting middle skills jobs in high growth industries. These include those requiring more than a high school diploma but less than a 4-year degree. Chapman met with staff from Senator Rubio and Senator Nelson's offices, as well as those of 11 House members, including local District Representatives Vern Buchanan, Charlie Crist, Gus Bilirakis and Kathy Castor.
CareerEdge's key advocacy focus is on expanding Pell Grant eligibility to include short-term certifications in high demand programs. Currently, federal Pell Grants provide college students needs-based funding for certification and degree programs that are at least 600 instructional hours, or a minimum of 15 weeks in length.
"Industry-recognized credentials in shorter-term programs are not eligible, yet some of these occupations are at critical shortage levels, "explains Chapman.
One example of a short-term program is Certified Nursing Assistants (CNA's) which are in high demand locally by hospitals, healthcare facilities and home health agencies with wages also on the rise. Job seekers are eager to earn these credentials; however, the education costs are often prohibitive. CareerEdge has funded several cohorts of CNA students over the last year, including a recent Red Cross-trained class at Booker Middle School in Sarasota County, and a group at the United Way Suncoast Sulphur Springs Resource Center in Tampa. At a recent planning meeting, Booker Middle School Resource Center Associate, Leroy Butler, reported that he has a waitlist of 70 interested people for the spring program which can only accommodate 12 students.
Other examples of short term programs include those in IT, construction trades and automotive maintenance and repair fields, as well as commercial drivers license (CDL) truck driver training. Providing needs-based support for these types of certifications can open a pathway out of poverty for many individuals.
Currently, both the federal House of Representatives and Senate have bipartisan proposals being developed for reauthorizing the Higher Education Act with language to expand Pell Grant funding for these skills-based training programs. The Senate's version, known as the JOBS Act, would help to cover rigorous short-term job training programs so workers can afford the skills training and credentials that are in high-demand in today's job market.
CareerEdge is working with lawmakers to ensure that they have the necessary data and field stories to make informed decisions about workforce policies, such as Pell expansion, which can drive economic prosperity for our region.
"As a leader in building demand-driven workforce systems, CareerEdge continues to advocate for policies that support both opportunities for individuals to earn livable wages in career-laddering occupations, while also providing employers in high growth sectors with the skills they need", said Chapman.
About CareerEdge Funders Collaborative
CareerEdge is an innovative partnership of business, government, and philanthropic organizations that leverages public and private dollars to provide opportunities for better jobs and wages from Sarasota County to the Tampa Bay region. The first regional collaborative of workforce investors in the southeastern United States to be designated as a site of the National Fund for Workforce Solutions, CareerEdge was created with funding from the John S. and James L. Knight Foundation, City of Bradenton Central Community Redevelopment Agency, Gulf Coast Community Foundation, Bank of America, Bradenton 14th Street Community Redevelopment Agency, Bradenton Downtown Development Authority, and Manatee Community Action Agency. It is also supported by contributions from the Charles and Margery Barancik Foundation, Microsoft, Sarasota County Government, Jane's Trust, JP Morgan Chase, Scheidel Foundation and United Way Suncoast . For more information about CareerEdge and its partners, please visit www.careeredgefunders.org or call 941.328.6985