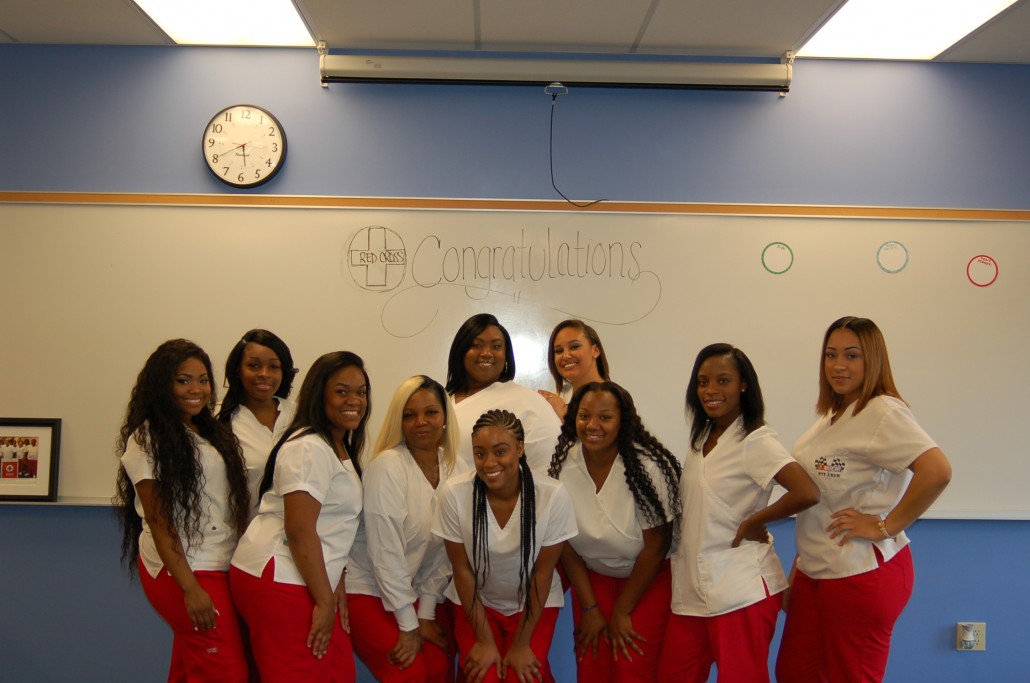 Released: May 10, 2017
Sarasota, FL – On Monday, May 15th, newly pinned nursing assistants will cross the graduation stage and will be one step closer to fulfilling their dreams of becoming Certified Nursing Assistants (CNA). The class of 11 will be the second cohort to graduate from the United Way Suncoast Booker Middle School Resource Center's CNA program.
The program was implemented to assist families in becoming financially stable and self sufficient, create access to career-laddering opportunities and begin a new chapter in their lives. Upon this graduation, 23 individuals will have successfully completed the rigorous seven week program that is facilitated by the American Red Cross.
"These students are receiving more than just CNA training. The graduates will walk away with the confidence and the soft skills they need to enter a nursing assistant position and build a stable foundation for their future," stated Mireya Eavey, Executive Director of CareerEdge and Sarasota Area President for United Way Suncoast.
The CNA training is funded via a partnership between CareerEdge Funders Collaborative, a workforce development non-profit, and United Way Suncoast. The innovative funding pays for tuition and the state license exam that students must take upon conclusion of the program. CareerEdge also provided the Bridges to Careers soft skills training, with modules including communication, team work, interviewing and professionalism in the workplace. United Way Suncoast provides additional services at the Booker Middle School Resource Center, such as: financial coaching, legal advice workshops and mentorship programs.
"Booker Middle is pleased to be a part of this innovative partnership. Opportunities such as this play an important role in the lives of our students and parents. We are fortunate to have organizations like CareerEdge and United Way Suncoast participate and bring insight and enthusiasm to this initiative," states Dr. LaShawn Frost, Principal of Booker Middle School.
The CNA program has given new hope to one student in particular, Shimara Gary. Before joining the class, she was a dietary aid and was searching for her next career path. When she learned of the tuition free CNA program at the Resource Center, she realized that this might be what she needed to move forward in her medical career. This was the perfect opportunity for her to better her life and show her children that anything is possible when you put your mind to it. "The program has been beneficial to my family and me in that it provided the opportunity to better my life. I am excited to use this experience as a stepping stone toward my goal of becoming a registered nurse."
Also being offered on graduation day, CareerEdge has organized a job fair with local healthcare employers to connect the students with potential CNA job opportunities. Program graduates will have the opportunity to be hired at hospitals, home health agencies and at skilled nursing and assisted living facilities. The high demand for CNA's in the Sarasota area offers great promise to these graduates with the potential to earn approximately $10 to $15 per hour.
The graduation and CNA job fair will be held on May 15, 2017 at the Booker Middle School Cafeteria, 2250 Myrtle Street Sarasota FL. 34234. The job fair will begin at 4:00 pm, with the graduation ceremony following from 6:30 pm to 8:00 pm. Family and friends of the graduates, as well as community members, are welcome to attend. If local healthcare employers are interested in attending the job fair, please call (941)328-6983. Join us in congratulating these new CNA's in our community.
About CareerEdge
CareerEdge is an innovative partnership of business, government, and philanthropic organizations that leverages public and private dollars to provide opportunities for better jobs and wages in Manatee, Sarasota, and Charlotte counties. The first regional collaborative of workforce investors in the southeastern United States to be designated as a site of the National Fund for Workforce Solutions, CareerEdge was created with funding from the John S. and James L. Knight Foundation, City of Bradenton Central Community Redevelopment Agency, Gulf Coast Community Foundation, Bank of America, Bradenton 14th Street Community Redevelopment Agency, Bradenton Downtown Development Authority, and Manatee Community Action Agency. It is also supported by contributions from the Charles and Margery Barancik Foundation, Microsoft, Sarasota County Government, Jane's Trust, JP Morgan Chase, Scheidel Foundation and United Way Suncoast. For more information about CareerEdge and its partners, please visit www.careeredgefunders.org or call 941.328.6985.
About United Way Suncoast
United Way Suncoast staff, volunteers and trusted community partners connect people, create change, and impact lives in DeSoto, Hillsborough, Pinellas and Sarasota counties by developing, enhancing and implementing services and programs to help create a stronger, more vibrant community. United Way Suncoast fights for the education and financial stability of every person in the community through educational programs that give children the skills to succeed and help adults achieve long-term financial stability, as well as provide support services to those who need it most. To find Suncoast-area volunteer opportunities, visit www.volunteersuncoast.org. For more information, please call 941.366.2686 (Sarasota office) or 813.274.0933 (Tampa office), or visit www.unitedwaysuncoast.org.