Sarasota FL (April 4, 2018): Nineteen individuals recently graduated from training programs developed by CareerEdge Funders Collaborative: 10 American Red Cross-trained Nurse Assistants and 9 Automotive Technicians from Suncoast Technical College. What makes these students different from those in traditional training programs is that each one was pre-screened and hired by an employer prior to starting their classes.
CareerEdge marketed these tuition-free training programs through multiple media channels, helping to drive candidates to employer application portals. All of the Nurse Assistant students were chosen by Tidewell Hospice for work at one of their facilities or at their home health agency, Approved Home Health. The Automotive Express students were hired by local dealerships: Gettel Automotive, Sunset Automotive, Toyota of Sarasota and Venice Honda prior to beginning the entry-level course.
The goal of these innovative educational programs is to engage employers in the talent identification process on the front end, while also offering individuals guaranteed employment once they complete the trainings.
The nursing program ran 4 nights per week for 7 weeks, while the twice a week evening automotive course was 11 weeks long. Both classes had 100% completion rates and provided graduates starting wages of $12 to $13 per hour.
Funding for the certification programs was made possible by Gulf Coast Community Foundation donors Walt and Renee Eppard who have taken a personal interest in helping these newly trained individuals succeed in their careers.
Developing skills and overcoming barriers to have a career with the potential for growth are high priorities for us. The reward of connecting directly with our students is inspiring and gratifying. A small investment can go a long way to changing the path of those willing to work for a better life for themselves and their families, explains donor Renee Eppard.
Students also received CareerEdge's Bridges to Careers soft skills training in subjects such as Teamwork, Conflict Resolution, Professionalism and Stress Management. And they were offered a financial education class delivered by Manatee Community Federal Credit Union to help them learn about budgeting, credit and debt management.
Tidewell Chief Human Resources Officer Julie Schilson said, "We've worked with CareerEdge for several years, receiving grants for specialized training of our current nursing staff. We are thrilled to be partnering with them now on recruiting and developing new talent for our organization."
The auto program was first piloted with Gettel Automotive last fall and has expanded to include additional dealerships in a second cohort. CareerEdge began the automotive program by hosting a roundtable of industry representatives and developed a plan based on their input.
CareerEdge will continue to work directly with employers to find solutions to their talent needs, and to encourage them to be active participants in the workforce development process.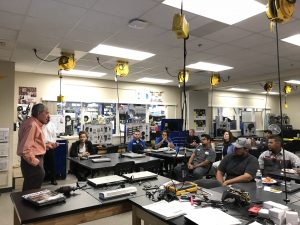 Gulf Coast Community Foundation donor Walt Eppard speaks to the Automotive class graduates.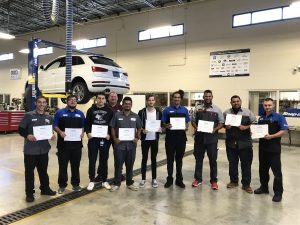 Suncoast Technical College Automotive graduates with instructor Mark Mullen.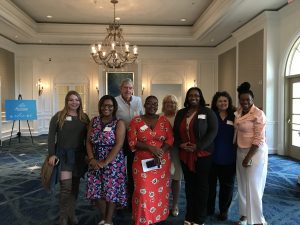 Gulf Coast Community Foundation donors Walt and Renee Eppard hosted some of the Nursing Assistant students at the Tidewell Signature luncheon.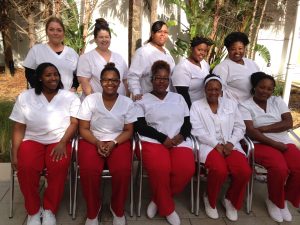 The first cohort of Tidewell Hospice Nursing Assistant graduates.