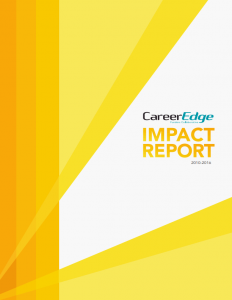 Released: May 23, 2017
Sarasota, FL.: Since CareerEdge Funders Collaborative began seven years ago, data has been collected to showcase the impact the non-profit and its funders have had on the community. The organization has just released a report which captures the measurable outcomes that have resulted from investments made by CareerEdge and its partners towards workforce development in the region.
Since CareerEdge's inception in 2010, $10.1 million has been invested in workforce development; with over 4,000 workers trained. The funding has led to a $20.7 million increase in annual earnings gains for area employees. Not only have wages increased, but more jobs have become available, due to trained employees moving up the career-ladder and entry-level positions opening.
"This report highlights exactly what CareerEdge and its funders work so hard to accomplish. Every day we try to impact as many workers, students and adults in our region as we can. We are constantly working to find new and innovative approaches to workforce problems," states Mireya Eavey, CareerEdge Executive Director. "Our funders want to make a difference in our community and this report illustrates the important work we are able to accomplish with their support."
An example of CareerEdge's impact can be seen in the region's increase in registered nurses receiving their Bachelor of Science (BSN) degree. As part of the BSN 2020 plan, the goal is to have 80% of America's nurses earn a BSN or higher by the year 2020. A CareerEdge partner, Sarasota Memorial Hospital (SMH), has outpaced the rest of Florida with 52% of their nurses holding a BSN degree or higher. CareerEdge investments alone have helped 88 SMH employees enroll in BSN degree programs, with 52 graduates to date.
CareerEdge young adult programs also experienced growth in 2016. Its internship program provides a $1,500 reimbursement to incentivize employers to hire a paid intern for at least $10 an hour. Initially the plan was to support 60 interns in the past year, but the goal was exceeded and CareerEdge registered over 90 local interns from 35 colleges and universities, at 44 area employers. On feedback surveys, students reported increased confidence, better communication and team work skills after their internship. They also indicated they felt more prepared to enter the workforce.
With the 2016 Impact Report, CareerEdge hopes to show the region the return on investment of these innovative workforce strategies, which affect both the local economy and help workers to earn family-sustaining wages. CareerEdge helps job seekers earn high demand credentials and attain employment, and gives employees a chance to build career-laddering skills, while helping local employers close skills gaps in growing industries.
About CareerEdge Funders Collaborative
CareerEdge is an innovative partnership of business, government, and philanthropic organizations that leverages public and private dollars to provide opportunities for better jobs and wages in Manatee and Sarasota counties. The first regional collaborative of workforce investors in the southeastern United States to be designated as a site of the National Fund for Workforce Solutions, CareerEdge was created with funding from the John S. and James L. Knight Foundation, City of Bradenton Central Community Redevelopment Agency, Gulf Coast Community Foundation, Bank of America, Bradenton 14th Street Community Redevelopment Agency, Bradenton Downtown Development Authority, and Manatee Community Action Agency. It is also supported by contributions from the Charles and Margery Barancik Foundation, Microsoft, Sarasota County Government, Jane's Trust, JP Morgan Chase, Scheidel Foundation, Foundation for a Healthy St. Petersburg and United Way Suncoast . For more information about CareerEdge and its partners, please visit www.careeredgefunders.org or call 941.328.6985